We enjoy regular sporting events and competitions with our local school collaboration.
Cross country……
Dodgeball…..
Football…..
Our Art Ambassadors took part in an art project with our partner schools based around mental health.  Their work was displayed in the Life Rooms….

Our wonderful choir singing at St George's Hall and a local church….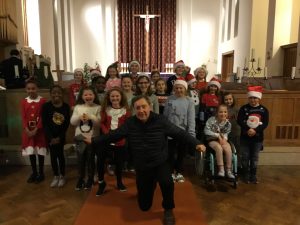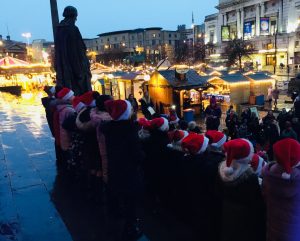 At Northcote Primary school we REUSE, RECYCLE, REPAIR and REDUCE.
Planting trees in Walton Hall Park – February 2018
Year 5 recently helped the Rangers at Walton Hall Park to plant some new trees. They had instruction on how to plant the tree's, how deep the hole needed to be etc. There were a lot of trees in that Wheelbarrow, and Mr Norman enjoyed showing the children how to dig the hole, but we aren't sure whether he should have been wearing shorts in February..
Recycling at Northcote
A group of children took part in a recycling project to make a tree out of used carrier bags. this was then displayed in the local Sainsburys. The children had a great time and produced a wonderful piece of art.
Our recycling project
We had a fantastic visit to the recycling plant. We found out all about how recycling is good for our planet. Take a look at our fantastic photographs.