Pupils
School will be closed from Tuesday 5th January and all learning will be moving online.
All of your work will posted on our online learning platform Seesaw. To log in, go to:
Your tasks have been scheduled to appear 5 minutes before our normal lesson time, as we will be sticking to our normal timetable. Please send me your work over SeeSaw. If you have any questions, please email me at:
j.brislen@northcote.liverpool.sch.uk
Welcome to Class 13!
Home Learning – Thursday 22nd October
Today is our last day of home learning! I can't wait to see you all tomorrow morning (Friday 23rd October). Make sure you bring in your yellow book with your home learning in, there are a few bits I want to go through. You will also need your PE kit as we will be doing PE in the afternoon.
As always, if you need me at all over the next few days, you can email me at j.brislen@northcote.liverpool.sch.uk
Previous days:
If you can, try to keep to our school routine! Follow these tasks and see below for extra information about them.
TASK ONE – Get your brain going with 5-a-day.
TASK TWO – Reading. Spend 30 minutes on Reading Plus or reading on Bug Club.
TASK THREE – Maths. Today we are doing long division – you all know how to do this, just take your time!
TASK FOUR – English. Today, we are going to do a bit of creative writing. Have a look below for your task.
TASK FIVE – Spellings – find this week's spelling task below. When we come back to school on Friday, we will have a spelling test of this week's and last week's spellings.
TASK SIX – RE. Today we will be looking at the story of Rama and Sita.
Task One – 5 a day
Here is today's task. Spend around 15 minutes and see how many you can complete. When the 15 minutes is up, mark you answers (if you can). When I call you later, you can ask me about any of the questions that you didn't understand.
Task Two – Reading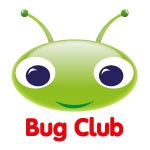 All children have now been allocated a login for Bug Club. Bug Club gives your child access to at home reading books at their specific reading level. Children can access the reading books online and progress through the reading levels with your support at home. More information can be found in the letter below. If you have any questions about Bug Club or need your child's login information, please email me at j.brislen@northcote.liverpool.sch.uk 
Your child can login to to Bug Club here: http://www.activelearnprimary.co.uk
If you are having trouble accessing Bug Club via your device, please try the following steps:
Go to 'Settings' and select 'Safari'

Switch off 'Prevent Cross-site tracking'
If you are still having problems, please contact me and we will investigate further.
Thank you for your ongoing patience and support. 
Some children are currently accessing Reading Plus in school. If so, they will be able to log in at home. Children can access stories online, which helps develop their fluency, understanding and vocabulary. Children's progress can be monitored by myself, therefore, it's a great way for me to see how your child is progressing.
Your child can log in to Reading Plus here: https://student.readingplus.com/seereader/api/sec/login
Task Three – Maths
Start with today's warm up: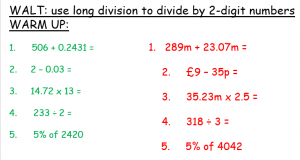 Today we are dividing numbers using long division. We have done this before but make sure you have a look at how to complete each step.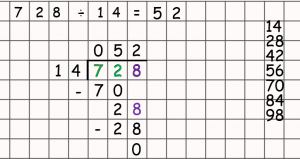 Use this to help you:
Activity: Have a go at 5 questions. Mark your answers with a calculator.
EXT: I have put more maths games onto Bug Club. Make sure you are logging in!
Task Four – English
Have a look at this image: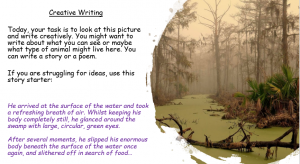 Task Five – Spellings
If you are confident with your spellings this week, make sure you understand what they mean and think about how you would use them in a sentence. 
Task Six – RE
Follow the slides and watch the video. Your task is on the last slide (underneath the video).
Activity: Can you create a story board for the story of Rama and Sita? 
Extra Maths
Please make sure that you keep up your maths by using one of our online resources:
TT Rockstars
Your child can practise their times tables on TT Rockstars. All children have been provided with their TT Rockstars login – if you need your child's login, please email me on j.brislen@northcote.liverpool.sch.uk.
Your child can log in to TT Rockstars here: https://play.ttrockstars.com/auth/school/student
Active Learn – Abacus
Your child can also access interactive maths games, which have been allocated by myself, on Active Learn. The games are relevant to what we've been learning in school. There's three levels to each game: bronze, silver and gold. Please do all three, starting with bronze.
How to access the activities set:
Log in using your child's Bug Club login details

When you're on Bug Club, click on 'My Stuff'.

Click on 'Abacus' and you will see the maths games which have been allocated for your child to play.
Important Information
My name is Miss Brislen and I am going to be your year 6 teacher this year. We have made a fantastic start to year 6 so far and I am really looking forward to the rest of the year.
We have P.E on Monday and Wednesday. Please ensure your child's full P.E. kit is in school for those days. PE kits will be sent home at the end of each half term.
In order to keep everyone safe, please stand behind the marked area at drop off and pick up times.  This will ensure all children and staff have space to enter and exit their marked area safely. Remember to wear a face covering if you are able to.
All children will require a water bottle. Please ensure this contains water only. Children will be able to refill their bottles in class.
If you wish for you child to walk to school and home from school alone, please email with permission to j.brislen@northcote.liverpool.sch.uk
Secondary School Transition Information:
Hillside:
Alsop:
2020 12 18 Newsletter Hillside yr 6
Holy Family (Crosby):
https://www.holyfamilyhighschool.co.uk/about-us/virtual-open-event
St John Bosco:
https://www.stjohnboscoartscollege.com/joining-us/virtual-tour/
Maricourt: https://www.maricourt.net/joining/about/joining-yr7-in-sept-2020
Bluecoat: https://www.bluecoatschoolliverpool.org.uk/our-school/welcome-head/
St Edward's: http://www.st-edwards.co.uk/what-parents-and-pupils-say/108.html
Archbishop Beck: https://www.archbishopbeck.com/transition-pastoralwelcome.php
Hawthorn's (Bootle): https://www.kingshawthornes.com/wp-content/uploads/2020/09/PGA-Yr-6-doc-V2-Final.pdf
North Liverpool Academy: https://northliverpoolacademy.co.uk/