Pupils
Class 1 – Home learning during school closures
Summer Term!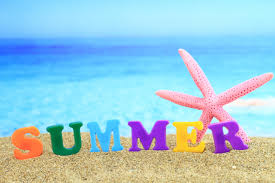 I trust that you are all well and keeping safe at home.
Make sure you log in every week, to see what tasks you should be completing from home.
Don't forget to send us pictures either via our school Twitter @Northcotesch or to myself at c.hartley@northcote.liverpool.sch.uk or Miss Turner at a.turner@northcote.liverpool.sch.uk
We are all missing seeing you everyday and can't wait to see some of the fabulous learning you have been doing at home with your families!
We will be displaying the best examples of your work with next week's learning, so remember to still use your nice neat writing and think about creative ways of showing your work! We are excited to see what you produce!
Summer 2 Week 4: 22nd June 2020
Keeping Fit – Northcote Sports Month!

Task: Northcote 'Sports Month' Fitness Challenge
During this time of the year, we should have been competing in our 'Sports Day'. Rather than cancelling, we have decided to change our plans this year. Instead of a 'Sports Day' we are organising a 'Sports Month'. 
For the next 4 weeks, we will be setting daily fitness challenges for you and your family to complete –  this will help us achieve the recommended 30 minutes of exercise each day

! 
Each day you need to check the school's Twitter account to see what the daily fitness challenge is. 
We want to see as many photos of you and your family completing all the fitness challenges as well as images of fitness record cards. (Remember when posting a photo on Twitter do not include your name).
If you are able to complete all of the week's challenges you will receive a certificate. 
To be able to receive the certificate, you need to email an image of the fitness record card completed weekly to your class teacher. 
Good luck and let's get fit! 
Writing: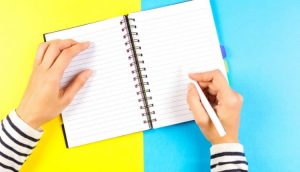 This week we are going to be learning about sun safety…
Task 1: Use the template below to create a sun safety poster. Write about the different ways you can stay safe in the sun!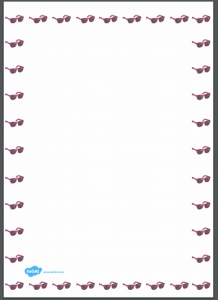 Task 2: Make a list of all the things you would pack inside your bag, if you were going for a day out to the beach on a hot summer's day!
Challenge: Follow the link below to listen to Dodge and friends singing a sun safety song. Can you think of your own poem or song that will help others to stay safe in the sun? 
https://www.bbc.co.uk/cbeebies/watch/sun-safety-for-kids  
Reading/Phonics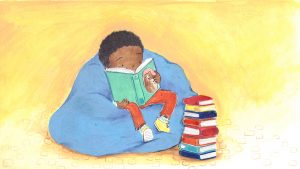 This week Miss Turner has read a bedtime story for you to enjoy: Watch the video below:
Can you write a book review about the story? Did you like the story and why? Who is your favourite character? What was the story about?
Use the template below: 
au-l-061-book-review-activity-sheet-_ver_2
Phonics Games
Practise your blending skills with some silly questions! All you have to do is read the question and answer by clicking yes or no. If you are right, the dinosaur will get some food. 
https://www.ictgames.com/mobilePage/tellATRex/index.html
Help Bella build her house by correctly spelling the word she reads aloud.
https://www.phonicstracker.com/games/BellaTheBuilder/index
Knock them down and read the word!
Can you think of more words for each digraph? 
Why not take part in the Summer Reading Challenge- follow the link for more information on how you can get involved:  https://summerreadingchallenge.org.uk/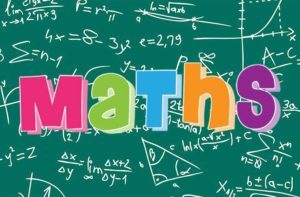 Maths:
This week we will be learning about 3D shapes.  
 This video provides a helpful guide to teach your child about 3D shapes. There are also some great ideas of fun and engaging activities you can play together.  
Activity 1: Look at some empty packages and boxes- can you identify what shape they are?
Activity 2: Using dough, can you make a sphere/ cylinder/ cube/ cuboid/ cone? 
Activity 3: Use some empty packages and boxes to make a model. Once your model is complete, talk about what 3D shapes you used. You could have a go at making a house, car, castle or robot.
Activity 4: Find items around the house to make your own bag of 3D shapes (e.g dice- cube, glue stick- cylinder, marble- sphere). Using only your hands, feel inside the bag and describe the shape- can you guess what shape it is? 
Activity 5: I spy with my little eye…. something that is a cylinder/ cube/ cone/ sphere/ cuboid.
Activity 6: Use the nets to make your own 3D aliens- Click Here.
Topic
Summer Crafts: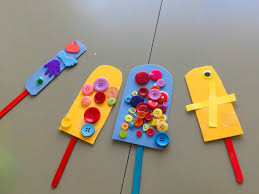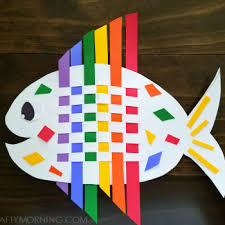 Have a go at making your own lolly-ices to keep you cool!
https://www.bbcgoodfood.com/howto/guide/5-best-ice-lollies-kids
 Learning w/c  22nd June 2020
Learning w/c 15th June 2020
Fantastic Home Learning:
This week I have received lots of fabulous emails with your home learning attached! It has been great to see what you have been up to and I can't wait to see more! Please continue to send your emails and I will upload some images below for your class friends to see! Well done everyone!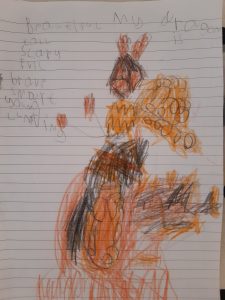 Emma created her own dragon and wrote adjectives to describe her dragon!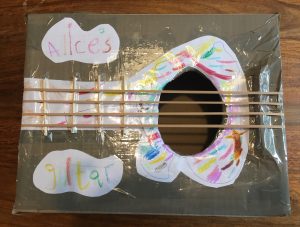 Alice made a fabulous guitar! Well done!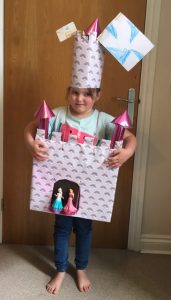 What a fantastic castle! I love the Scottish Flag and the princesses entering their castle! Lots of hard work went into this castle! Well done!

Wow! What an amazing obstacle course! Well done!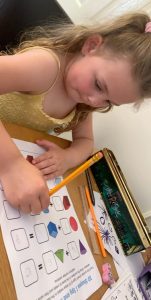 Fantastic number learning! Well done!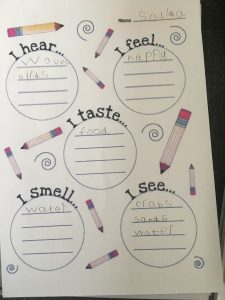 Salima's fantastic writing using her senses to describe what she would see/feel/taste/etc. at the beach! Good work! 
The Brown family experimented floating and sinking with different objects!

The Brown girls made their own volcano!
Arilena wrote a fantastic fact file about a snail! Fabulous picture too!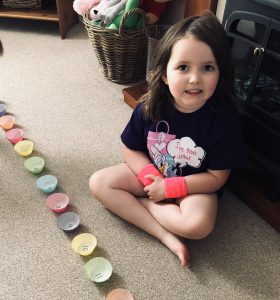 Using cupcake cases with numbers to make a number line! Very creative!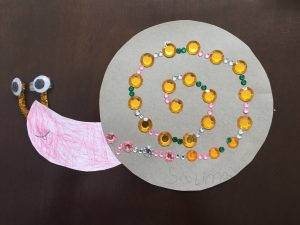 Salima's beautiful gem snail! So lovely – Well done!



Tala using her whiteboard to write CVC words! Great writing!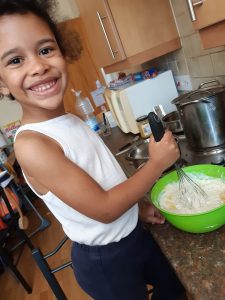 Fantastic mixing to make some doughnuts!!
Alice wrote a fabulous book review about last weeks book 'Yucky Worms' – Well done, I love the drawing!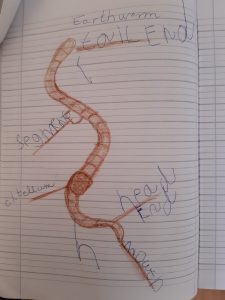 Emma labelled the different parts of a worm! Well done Emma!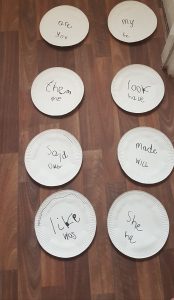 Arilena has been busy writing and reading sight words using paper plates!
The Brown family built a bug hotel in the sunshine this week! A caterpillar came along and started to make itself a cocoon! What a fabulous experience! They named him Eric! I'm sure he will turn out to be a beautiful butterfly!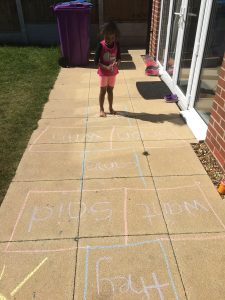 HFW hop scotch! Great idea for doing some outside learning in the sunshine!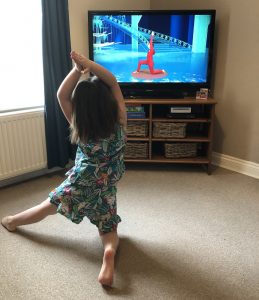 Fabulous yoga pose from Alice!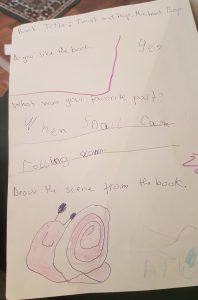 Arilena's fantastic book review! Well done!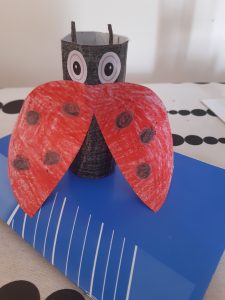 Emma has made a beautiful ladybird! Can you make your own minibeast too?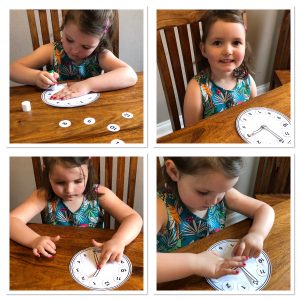 What time is it? Fantastic time making using a homemade clock!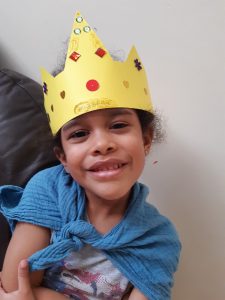 What a fabulous crown!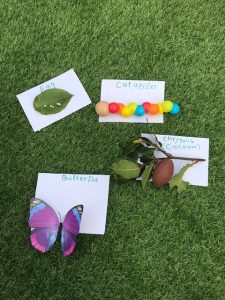 Tala has been busy learning about the life cycle of a butterfly! She also sent a lovely video explaining the 4 steps from egg to butterfly! Well done Tala!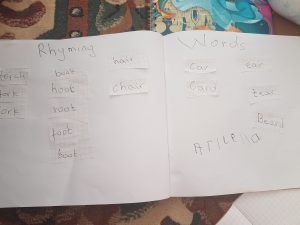 Arilena has been busy matching different rhyming words together. It is lovely to see some beautiful handwriting from Arilena too! Fabulous, well done! 
What a fantastic way of using toilet rolls tubes for phonics! Well done – fantastic blending!