Learning
İBienvenidos a nuestra página de español!
MFL Coordinator: Miss Gladwinfield (Year 2 Teacher)   
Our foreign language assistant: Marina
Our curriculum
Our Northcote Curriculum is designed with the intent to maximise the potential of all of our pupils; intellectually, socially, morally, emotionally and culturally.  We take every opportunity to encourage a love for learning within all of our pupils, based around a resilience for learning and achieving greatness.  Most importantly we allow our children to learn in a safe and stimulating environment, where their views are valued.
Implementation – Spanish is delivered as part of our 'Citizens of the World' curriculum.
Spanish is taught by a specialist Foreign Language Assistant, Marina. In addition to these discrete lessons, teachers promote Spanish to be spoken as part of the school day by encouraging children to use their language skills in a range of different activities, for example taking the register, giving instructions, asking for drinks, writing dates and celebrating birthdays. This is further promoted by our Language Ambassadors, pupils who implement language challenges and encourage the rest of their class to become involved and use their language skills. Languages are also taught through purposeful cross curricular links, including Maths, Cooking, Dancing, P.S.H.E. and Geography. This is particularly evident during Spanish culture week, when children take part in a variety of activities linked to MFL and other curriculum areas.
MFL lessons begin in Key Stage 2, however, EYFS and KS1 join in with Spanish culture week and are also taught basic vocabulary by their teachers to encourage early language development and an introduction to MFL lessons. When children enter KS2, every class has a timetabled lesson slot each week which is taught by a Spanish language specialist. Teachers are present in classes during this time and this helps them to embed the skills of the specialist language teacher throughout the school day.
Spanish is taught via a topic approach which changes each half term. Each year group, follows differentiated learning outcomes that encourage children's understanding and knowledge of the Spanish language to deepen and progress. Children in year 6 take a listening, reading and speaking exam in Spanish to support their transition from KS2 to KS3. High school teachers are informed of this data so that children's language skills continue to grow, preparing them for the global world in which we live.
Our school works in collaboration with 6 other local schools; here the subject leaders meet and discuss aspects of the Spanish curriculum, sharing good practice and ideas for purposeful teaching and learning.
Impact – 
Topics are revisited each year with an added skill or challenge. This ensures that each topic is revisited regularly to embed each learning objective. The lesson structure each week also allows time to revisit the previous week's knowledge and build upon this. Children fill in 'I can' statements which link to the learning objectives before and after each topic is taught. This ensures that the children are progressing in Spanish and informs of gaps which need to be revisited.  Subject and school leaders monitor the impact of our curriculum provision through completing regular monitoring, that includes listening to the voice of our children.
Parque Clavero- Our Partner School in Spain
To improve our language skills further and to gain a deeper understanding of different cultures, we have recently made a partnership with a school in Malaga, Spain! We are very excited to learn more about our Spanish friends and practise our language skills in a real-life context. Please keep checking our web page for regular updates!
Northcote Spanish Long-term plan (KS2):
Long term planning overview Spanish_
MFL Policy
Planning
Y3Aut1SpanishWebsite21 Y4Aut1SpanishWebsite21 Y5Aut1SpanishWebsite21 Y6Aut1SpanishWebsite21
Fun resources and ideas to learn Spanish at home:
Spanish songs to help your learning:
Numbers- https://www.youtube.com/watch?v=6FEyfy5N3Nc
Days of the week- https://www.youtube.com/watch?v=C4fREj60Crk
Months – https://www.youtube.com/watch?v=IKznbHvPFwc
Colours – https://www.youtube.com/watch?v=DsRKoZGaoEM
Useful websites:
https://radiolingua.com/learnathome/?fbclid=IwAR3_XTWg9jFgS0td8MK2qfpJBQ2kRTPkP7q4ZKSTkwaisy3nnokpNrKgtbY
Spanish stories to enjoy:
https://www.thespanishexperiment.com/stories?fbclid=IwAR0dvE1xJ-bzmJXjQKpfhRAQu02fWIGHsc9Kk4JfzxiJD2qpjALBV6FR6BA
Play some Spanish word games:
https://www.lightbulblanguages.co.uk/resources-sp-pz.htm
BBC Learning
https://www.bbc.co.uk/bitesize/subjects/zxsvr82
Duolingo
https://www.duolingo.com
Learn languages for free. Web or app.
Spanish Christmas Carol Concert
Year 5 and 6 Feliz Navidad Song
Year 3 and 4 Burrito Sabanero Song
Year 6 students enjoyed a Skype session with our Spanish friends at Parque Clavero. 
They worked really hard to use their Spanish language skills in a real life scenario!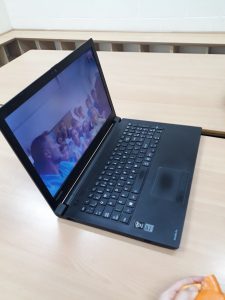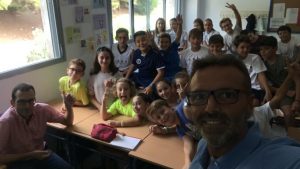 Spanish Homework- Discovering facts about Christmas in Spain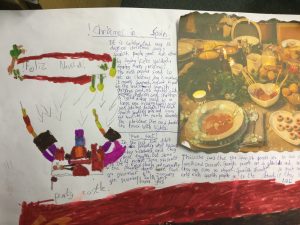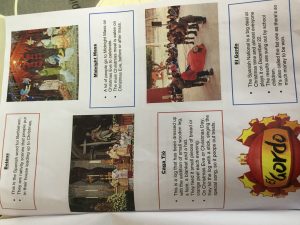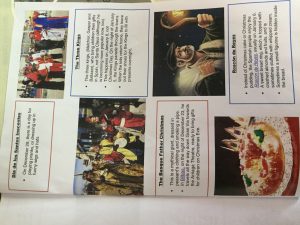 Celebration of different languages spoken at Northcote!
Not only are we keen to celebrate and learn about the Spanish culture, but we also celebrate the cultures of pupils and staff within our school. Pupils enjoy sharing information about their home life and enjoy teaching their class and teacher phrases from languages they speak!
Spanish Culture Week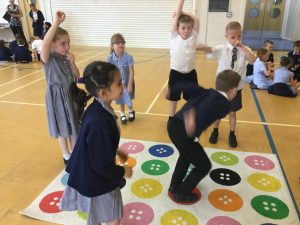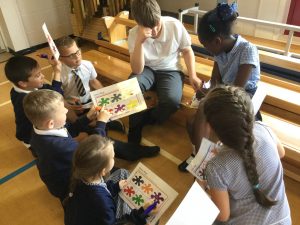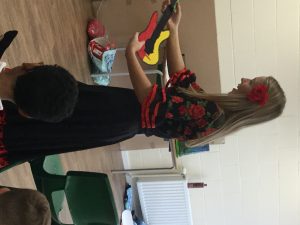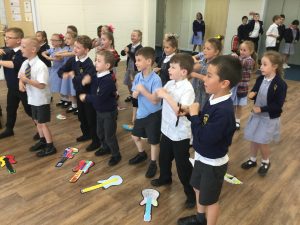 Spanish week has seen some wonderful use of Spanish language, lots of learning about Spanish culture and lots of fun!
It is clear we have lots of budding linguists at Northcote and we hope to hear them continue to develop their brilliant Spanish. Keep it up!
Some Spanish displays around the school….