Learning
Welcome to the Geography page.
At Northcote, the teaching of Geography motivates children to find out about the world around them and enables them to recognise the importance of sustainable development. Through their work in Geography, children learn about their local area and compare this with other regions of the United Kingdom and the rest of the world.
There is a focus on locational and place knowledge as well as geographical skills such as using maps, atlases and globes. Through their growing knowledge and understanding of human geography, children gain an appreciation of life in other cultures. In addition, children will study a variety of physical features using subject specific vocabulary.
Children will collect and analyse data from a range of sources and communicate this in a variety of ways, including maps, numbers and writing. Where possible, the study of this subject is cross-curricular and children are provided with an understanding of what it means to be a global citizen. This will encourage a respect for other cultures and the environment.
Geography Whole School Overview
Some useful websites!
www.primaryhomeworkhelp.co.uk/geography/index.html
www.bbc.co.uk/schools/websites/4_11/site/geography.shtml
www.gov.uk/government/publications/national-curriculum-in-england-geography-programmes-of-study
Autumn Term Geography displays: KS1 and EYFS.
KS2 Display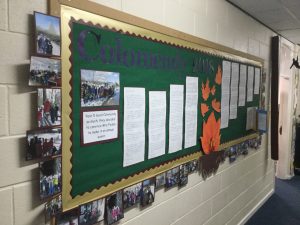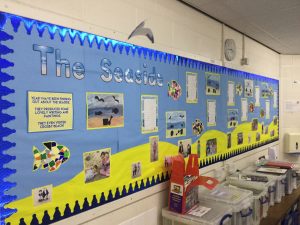 Year 2 recently went to Norton Priory and used a plan of the area to name the different parts of the Priory and to plot a route around its grounds. It gave our Victorian day a geographical focus.