Learning
Speaking and listening
Intent:
Our Northcote Curriculum is designed with the intent to maximise potential of all of our pupils; intellectually, socially, morally, emotionally and culturally.  We take every opportunity to encourage a love for learning within all of our pupils, based around a resilience for learning and achieving greatness.  Most importantly we allow our children to learn in a safe and stimulating environment, where their views are valued.
Speaking and listening is central to the Northcote Curriculum and is developed from EYFS throughout our school, across the curriculum. We nurture children's speaking and listening skills through a variety of approaches: exploratory play, story time, hot-seating, philosophy sessions (P4C) and now through collaborative learning in Science and RE. We develop these skills so that our children are capable of  expressing their own ideas clearly and confidently, in a safe and supportive environment, in all aspects and areas of their school life and into their future.
Implementation:
All staff in our school model the use of higher level vocabulary within their speech and expanding children's vocabulary is a key focus from EYFS. We are currently taking part in the Language Leaders Project (LLP) in EYFS (part of the URLEY project, research by the EEF). This is helping children and adults reflect on the use of language within the classroom and develop this further. Subject specific vocabulary is embedded across the curriculum, through teacher modelling, in context. Contextual learning helps children to understand new words and supports them in including them in their work. This model is reflected in shared reading sessions, where children are given the chance to explore unfamiliar vocabulary and expand their knowledge of words. We are keen to model the correct grammar in speech, for example using 'we were' instead of 'we was' and encourage children to reflect this in their use of spoken and written language. Children are given the chance to orally rehearse ideas for writing regularly.
In addition to the LLP, we are working in collaboration with local primary school partners to develop children's confidence in public speaking. Our Year 4 children are attending sessions at Longmoor Primary School, run by the English Speaking Union. They are given the chance to share their ideas with children from other schools and encouraged to deliver these confidently. We look forward to further developing this work in the coming weeks and months. All teachers are also in receipt of training on developing vocabulary across the curriculum this month.
Drama is used across all subjects to explore and engage children in their learning. This gives children the chance to embed vocabulary in shared activities, embedded the use of topic specific language repetitively  they rehearse. Year 6 have used drama to explore the journey of a water droplet in Geography and the journey of a blood cell in Science and Year 2 experienced a Victorian school day in History: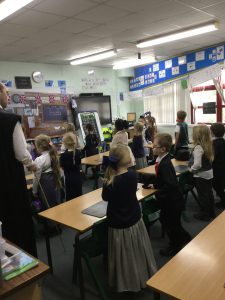 We also run an after school drama club for Key Stage 2 pupils, which is over-subscribed! Children are given different scenarios and rehearsal time to practice these with a range of peers. We also work with the Helen O'Grady drama school, to run whole school events. This year, Helen O'Grady staff has supported our World Book Day focus, by running workshops related to Tom McLaughlin books. This has helped children to engage with texts and use creativity to explore these further.
Here are some children silently acting out a scenario – chosen at random – during drama club. The others watch their acting and then give them feedback. This helps to develop children's communication skills and self-esteem.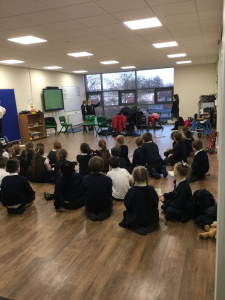 Philosophy for children (P4C) promotes an open forum for honest dialogue, where our children are encouraged to exchange ideas and opinions. All lessons follow the '10 step model', guided by whole staff training by SAPERE. Children do a warm up game, which puts them in mixed groups before the main lesson. They then are given a stimulus and given time to reflect on this. In their groups they they create a question for discussion, which can be applied to the wider world. Votes are collected and the most popular question is then put up for discussion. Children are encouraged to 'build' on each others ideas, sift through different points of view and communicate their ideas, using 'I agree with' and 'I disagree with', to create  discussion, rather than a debate. Above all, they try to understand each other and alternative points of view.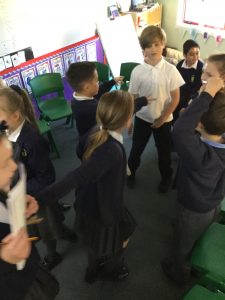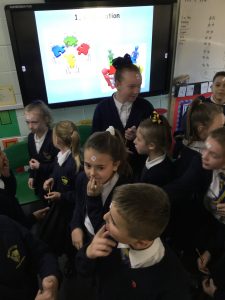 We now use 'floor books' for science and RE, which is also helping to develop our speaking and listening skills. Work is much more collaborative and children are given the time to share and discuss their ideas, before recording.
Impact:
Speaking and listening give us the basic skills we need to communicate with the world around us. Children are given a range of  opportunities to develop these skills, in a safe and stimulating environment. The wide range of speaking and listening activities – which are weaved throughout our curriculum – help to develop ideas, vocabulary and confidence, as the more we talk, the more we pick up on different words that other people use.