Learning
Reading at Northcote
Our Northcote Curriculum is designed with the intent to maximise potential of all of our pupils; intellectually, socially, morally, emotionally and culturally.  We take every opportunity to encourage a love for learning within all of our pupils, based around a resilience for learning and achieving greatness.  Most importantly we allow our children to learn in a safe and stimulating environment, where their views are valued.
Intent
'First we learn to read, then we read to learn.'
This statements underpins our approach to reading, which is at the heart of everything we do here at Northcote.  Books are central to all of our learning and you will find these in lots of areas around our school. We provide our children with daily opportunities to develop their word recognition and understanding, comprehension skills and, above all, their love for reading through our high quality Phonics, Shared Reading, Home Reading and English provision.
Implementation
We use Little Wandle Letters and Sounds to teach phonics to all children and all children read decodable books at home at the correct phonics level whilst they are learning to read. Children use a range of practical approaches to learn new sounds and practice their letter formation. Continued practice is encouraged in continuous provision and also on the outdoor bus, by reading champions and writing ambassadors. This supports the teaching of early reading in our school. 1:1 readers compliment in-class teaching through targeted intervention after school.
Support for parents at home – Some useful resources to help your child with phonics at home.
Reading is delivered through discrete daily Shared Reading lessons, where all children are given access to age-related texts. Children use a range of skills in these weekly sessions: they predict what the story is going to be about using clues in the title; as they read, they highlight unknown vocabulary and are given the chance to explore these words; they summarise in pairs what the story is about; create and answer questions based on the text and then complete tasks. Children are encouraged to make links between texts and use their new vocabulary in their writing.
Reading is also taught through a range of targeted interventions. Guided reading, based on children's reading ability, is lead by LSAs in classrooms, to support the teaching of reading, across the school. In Year 6, children use Reading Plus, an online reading programme which targets specific areas of reading. Since the implementation of this last summer, ALL children have improved their reading speed and the 30 Year 6 children currently using this intervention have READ OVER A MILLION WORDS since January. We have now ordered new iPads, so are using this to challenge our More Able Students (MAS) in Year 3, 4 and 5.
Reading is embedded throughout the Northcote curriculum.  For example:
Science – children retrieve and infer information about Charles Darwin and his journey on the HMS Beagle (KS2)  and read about the process of Hibernation (KS1)
Geography – to discover how mountains and volcanoes are formed (KS2); use atlases to learn about Australia (Year 2) and learn about oceans and continents (Year 4) in Geography
History – Anne Frank's biography is used as a stimulus for writing in Year 6 and Samuel Pepys' diary entries are used to help Year 2 children understand The Great Fire of London.
Topic books are actively used in Humanities lessons and displayed in classrooms, with children encouraged to use these to consolidate and extend learning.
We are very lucky to have had lots of families in to join us for our 'Chatterbooks' sessions, allowing them to see how Shared Reading is taught and working alongside our pupils to learn.
Impact:
Our phonics scores show a maintaining trend in data and is beginning to have an impact on Year 2 reading outcomes. There is evidence of children trying to apply the phonics rules in their writing. Reading scores are also improving and remain above National Average at the end of KS2. Children and parents' attitudes to reading are much more positive.
Parents say:
"Kids lessons are much more developed than when we were at school. It seems a fun way of learning too!"
"I enjoy being able to understand how the teaching is delivered to the children. It gives me a clearer understanding when helping them with their homework."
"Helps you understand what your child does at school, especially being an older  parent! Thank you for the experience you offer at your sessions."
Online Reading Resources to support your children in school and at home:
Reading plus:
https://student.readingplus.com/seereader/api/sec/login
Please find a guide below, made by our Year 6 children, to support you accessing this.
Bug Club:
https://www.activelearnprimary.co.uk/login?c=0
Please contact your child's class teacher if you need support with logging in to these online reading sites.
Reading champions: (Please note that due to COVID-19 regulations, meetings have been put on hold. As soon as we can, we will create new champions and meet with them again!)
Every class at Northcote has at least one Reading Champion who is responsible for:
Reading, reviewing and recommending a selection of fiction and non-fiction texts at home and at school and during weekly assemblies

Reading with other children across the school

Ensuring that class reading pods and school library are maintained

Helping to plan and deliver reading events
Here are some of our reading champions with this year's book for World Book Day:
Reading pods: (Please note that due to COVID-19 regulations, we have removed soft furnishings from classrooms. Children can still access texts in the classroom, but they will go in an 'isolation box' after they are read, before they are put back on the shelves.)
All classes in the school have dedicated Reading Pods which are stocked with age, ability and interest-appropriate texts. Texts are reviewed and updated regularly in line with the pupils' interests. Here, the children are able to read for pleasure in a comfortable setting. Year 5 won the home reading and here they are in their reading pod: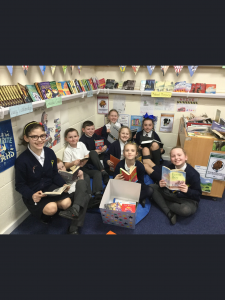 The reading process: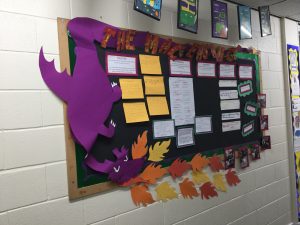 Reading competitions:
One of our competitions was to design a 'Shoe Box Story Scene' based on our favourite books. Here are some of our entries:
Tweets by famous authors:
Maria Altes was so impressed with some of our designs  that she tweeted us:

For World Book Week, we have all been learning lots about the stories by children's author Tom McLaughlin. He has been so impressed with our work that he tweeted us:

Daniel Riding loved his visit in Key Stage 1:
Reading for pleasure: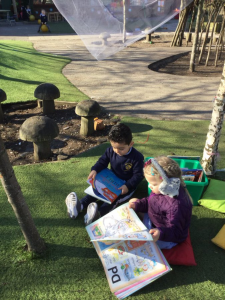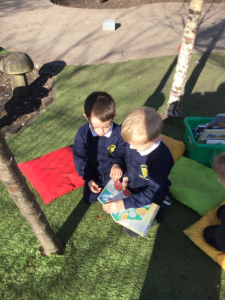 Home Reading Help!
At Northcote, we want your home reading experience to be an enjoyable one. Take a look at our Home Reading resources below for hints, tips and resources to help you make the most of your reading time at home.
Home Reading Leaflet 2017-2018.pdf
Year 4 Home Reading Bookmark Twinkl.pdf
Year 6 Home Reading Bookmark Twinkl.pdf
Year 5 Home Reading Bookmark Twinkl.pdf
Year 3 Home Reading Bookmark Twinkl.pdf
Year 2 Home Reading Bookmark Twinkl.pdf
Year 1 Home Reading Bookmark Twinkl.pdf
Read Liverpool
A fantastic, FREE website which allows you access thousands of e books at the touch of a button. All you need is a library card and internet access!
BBC School Radio
A fantastic resource full of animations and audio books of modern and classic stories including Carrie's War and Shakespeare stories such as The Tempest
Myths and Legends
A brilliant resource which provides free access to Myths and Legends animations
Books for Keeps
An online Children's book magazine
Love Reading 4 Kids
A fantastic website which gives you age and interest specific book recommendations. There is even a facility to download sample extracts!