Learning
Our English leads are Mrs McDermott, Miss Manley and Miss Weston.
Mrs McDermott (EYFS and KS1)
Miss Manley (Key Stage 2)
Miss Weston (Reading advocate)
Please see the bottom of this page for full curriculum coverage from Nursery to Year 6 and all policies relating to the English curriculum.
To see all of the exciting things we have been doing, make sure you check out our Twitter page (with lots of our English pictures), which is update daily by our teachers:
https://twitter.com/NorthcoteSch?ref_src=twsrc%5Egoogle%7Ctwcamp%5Eserp%7Ctwgr%5Eauthor
Speaking and listening
Speaking and listening is central to the Northcote curriculum and is developed from EYFS and right throughout our school. We nurture children's speaking and listening skills through a variety of approaches: exploratory play, story time, hot-seating, philosophy sessions (P4C) and now through collaborative learning in science and RE. We develop these skills so that our children are capable of  expressing their own ideas clearly and confidently, in a safe and supportive environment, in all aspects and areas of their school life and into their future.
Reading at Northcote
Reading is at the heart of everything we do here at Northcote.  Books are central to all of our learning and you will find these in lots of areas around our school. We provide our children with daily opportunities to develop their word recognition and understanding, comprehension skills and, above all, their love for reading through our high quality Phonics, Shared Reading, Home Reading and English provision. We encourage our pupils to develop their knowledge of a broad variety of genres using high-quality texts as well as developing their own through use of story mapping, 'role on the wall' and performance.
We are very lucky to have had lots of families in to join us for our 'Chatterbooks' sessions, allowing them to see how Shared Reading is taught and working alongside our pupils to learn. Parents say:
"Kids lessons are much more developed than when we were at school. It seems a fun way of learning too!"
"I enjoy being able to understand how the teaching is delivered to the children. It gives me a clearer understanding when helping them with their homework."
"Helps you understand what your child does at school, especially being an older  parent! Thank you for the experience you offer at your sessions."
Phonics
We use Letters and Sounds to teach Phonics at Northcote Primary School. We supplement it with the Jolly Phonics scheme. For Further information please look at the English Policy.
Support for parents at home – Some useful resources to help your child with phonics at home.
Meet Our Northcote Reading Champions
Every class at Northcote has at least one Reading Champion who is responsible for:
Reading, reviewing and recommending a selection of fiction and non-fiction texts at home and at school and during weekly assemblies
Reading with other children across the school
Ensuring that class reading pods and school library are maintained
Helping to plan and deliver reading events
Northcote Reading Buddies!
Our Reading Buddy system is a well-established practice at Northcote and is used to strengthen the bond between key stages, to promote confidence and competence and, above all, to promote a love of reading across the school
Northcote Reading Pods
All classes in the school have dedicated Reading Pods which are stocked with age, ability and interest-appropriate texts. Texts are reviewed and updated regularly in line with the pupils' interests. Here, the children are able to read for pleasure in a comfortable setting.
Welcome to Northcote Library!
Our school library is at the heart of the school building and is a hive of reading activity! It is well stocked with high-quality reading material which is regularly reviewed and updated. Our school library is used for independent reading, class reading activities such as Guided Reading, Reading events and much, much more.
Writing at Northcote
Our aim is to develop purpose for writing, that engages children of all ages and abilities and we will be looking for as many opportunities as we can to develop and engage children. If you have any good ideas, send them our way! We are very proud to say that we are going for the first every Writing Quality Mark to be ran by School Improvement Liverpool and we are going for gold!
We develop our writing skills as we progress from mark making in the EYFS to using a range of sentences in KS2. All teachers immerse children in the genre they are studying, then support children in the planning of their own writing. We all use 'Alan Peat' sentences in our writing and posters are displayed in our classroom as prompts. Handwriting is a central focus within our school, ensuring that children's writing is joined and cursive. We practise our handwriting weekly in dedicated sessions and apply those skills to our writing daily. Writing is celebrated throughout the school on displays. We endeavour to embed cross curricular writing in all year groups and curriculum areas.
Our  'Writing Advocates'  have met with Miss Manley and Mrs O'Donnell (Our school English Governor) and have given us feedback about our children's views on writing across the school. We are now focussing on continuing to improve the writing environment (especially our outdoor areas) and finding more writing opportunities, based on the views of our Writing Advocates.
Northcote english policy 2017 – 18.pdf
Northcote Events
We love to celebrate our love for reading and writing here at Northcote and really enjoy opportunities to engage with different genres of literature and bring our favourite books to life.
Take a look at what we have been up to…
Mark Making in nursery: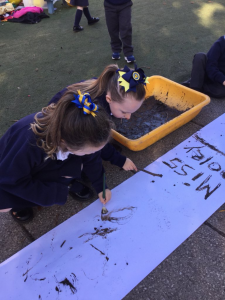 Some of our 'Shoebox Story Scenes' entries: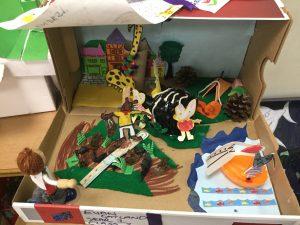 Celebrating 100 years since the end of World War 1, our work was even sent to London for display!: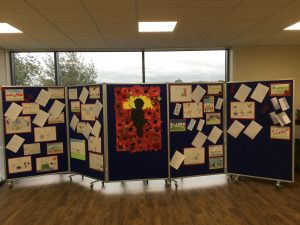 Check out some of our fantastic homework: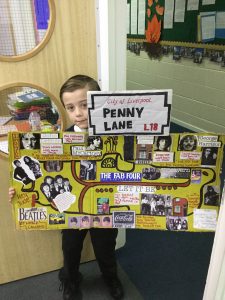 Our Year 6 boys have drafted letters, published them and posted them to local boxer Derry Matthews!
Year 5 Chatterbooks – thank you all parents for your ongoing support!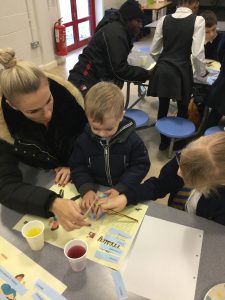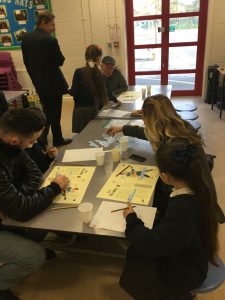 Year 5 and 6 enjoyed our visit from Derry, where he brought back our letters and signed them!
We love writing at home for pleasure:
World Book Day 2018!
CHATTERBOOKS
Working with Families- Building a bridge of books
Taffy Thomas 'Campfire' Celebration
Training Opportunities for Parents
Looking for opportunities to volunteer or to train to support your child with reading? Check out the links below for more details.
The Life Rooms, Everard Avenue- Activities and Courses
The Life Rooms hosts a range of courses to support you with specific skills and overall well being. There are also opportunities to volunteer at the The Life Rooms!
English and Maths courses at the Salvation Army Community Centre, Cavendish Drive
The Salvation Army offers a wide range of courses such as Maths and English, GCSE Maths and English as well as courses in Spanish, Art.
Activities and training at County and Walton Children's centre
The Children's centre hosts a whole timetable of activities and courses to help you and your child develop.
Beanstalk Reading Volunteers
If you would like to train as a reading helper in the community, click on the link below for more information.
Shared Reading Facilitator at The Reader- course and groups
The Reader based in Calderstones park offers a range of reading groups for adults and also provides training so that you can lead your own courses in the community.
Home Reading Help!
At Northcote, we want your home reading experience to be an enjoyable one. Take a look at our Home Reading resources below for hints, tips and resources to help you make the most of your reading time at home.
Home Reading Leaflet 2017-2018.pdf
Year 4 Home Reading Bookmark Twinkl.pdf
Year 6 Home Reading Bookmark Twinkl.pdf
Year 5 Home Reading Bookmark Twinkl.pdf
Year 3 Home Reading Bookmark Twinkl.pdf
Year 2 Home Reading Bookmark Twinkl.pdf
Year 1 Home Reading Bookmark Twinkl.pdf
Read Liverpool
A fantastic, FREE website which allows you access thousands of e books at the touch of a button. All you need is a library card and internet access!
BBC School Radio
A fantastic resource full of animations and audio books of modern and classic stories including Carrie's War and Shakespeare stories such as The Tempest
Myths and Legends
A brilliant resource which provides free access to Myths and Legends animations
Books for Keeps
An online Children's book magazine
Love Reading 4 Kids
A fantastic website which gives you age and interest specific book recommendations. There is even a facility to download sample extracts!
GPS Whole School Coverage
We use the Read, Write, Inc scheme to support our learning of spelling rules and alternate this weekly with grammar and punctuation sessions.
Northcote Whole School Coverage linked to termly tests.pdf
Handwriting Policy
Long Term Curriculum Coverage for each year group
Mark making in the EYFS